Welcome to our section on Aussie Ford parts. We began dealing in reproduction Falcon parts back in 1988 and in those days we were buying exclusively off Rare Spares in Australia until that relationship came to an abrupt end!
Due to significant demand from our clientele we found alternative sources for the stock very quickly and for the last 15 or so years have enjoyed an excellent working relationship with numerous Falcon parts manufacturers throughout the world. Consequently the majority of our earlier Falcon stock is sourced from the USA, primarily for quality issues but because of the volume of parts we import we are very competitive with the Australian supplier's pricing.
Please click on your model car on the bottom of the page, if there is anything you need but don't see please contact us for a competitive price on quality parts!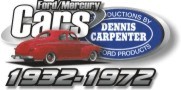 Please note: prices and specifications are subject to change without notice. Part numbers may appear to be genuine but it must be understood that unless they are noted otherwise they are NOT genuine Ford parts.